Emotio+ examination chair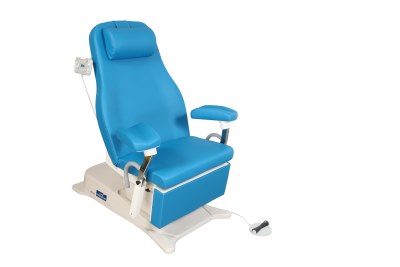 Emotio+ examination chair
All electric, easy access and ergonomic.

Highlights and Advantages
•    All electric, easy access and ergonomic
•    Select chair and couch positions with one click
•    High comfort upholstery
•    Carries patients up to 205kg
Product Description
All electric, easy access and ergonomic. The eMotio+ Examination Chair has been designed to be an efficient assistant for the specialist or general practitioner.
Promotal carried out the largest study ever conducted in medical furniture with 200 doctors from six European countries.
The final product is the result of three years development and allows the doctor to fully concentrate on the diagnosis, whilst gaining time and space. The patient benefits from increased comfort and lower stress resulting in a more balanced exchange.
You can select chair and couch positions with one click, the upholstery is high comfort and the frame accommodates patients up to 205kg.
Smooth, safe electrical movements
Two fully configurable exam positions
Paper roll holder
Convertible arm and leg rests
Adjustable headrest
Tilt to 105cm
COMFORT
High comfort upholstery
Pediatric and gyneco examination positions
Effortlessly adjustable backrest and leg rest inclination
SAFETY
Patient weight capacity 205kg
Welcome and examination in chair position
Smooth height transitioning
ACCESSIBILITY
Variable height from 45 to 96cm and 105cm with tilt
Fast, easy access around chair
Your favorite positions with one press