Midmark 60 litre B class steriliser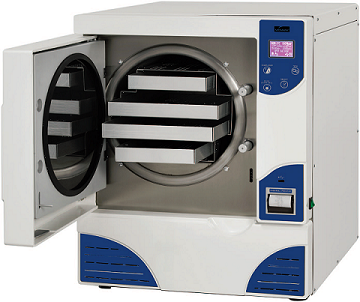 Midmark 60 litre B class steriliser
Ideal if you regularly process large quantities of instruments.

Highlights and Advantages

•    Can be mounted on a benchtop
•    Comes with tray holder and four trays
•    Requires single phase power


Product Description
This 60 litre B class autoclave is ideal if you regularly process large quantities of instruments.
Can be mounted on a benchtop or purpose built cabinet as shown.
Built-in printer and USB connection help simplify your daily workload.
Comes with tray holder and four trays. Motorised door.
Requires single phase power.
Integrated reverse osmosis system optional.
820mm H x 646mm W x 783 mm D