Divario CR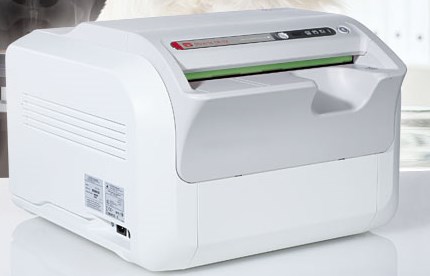 Divario CR
Easy to operate, reduces waiting times, makes examinations more efficient.

Highlights and Advantages
•    Simple graphical user interface
•    Integrated X-Ray positioning guide
•    Organ specific viewing quality optimisation
•    Operated by touchscreen or mouse
Product Description
The Divario CR-T2 is a CR desktop system for digital X-Ray imaging in veterinary medicine with a maximum throughput of 73 cassettes per hour. In high-speed mode (5 pixel/mm), the processing rate of the new Divario is 70 % higher than that of older CR systems. The Divario is easy to operate, reduces waiting times for animals and owners, and makes examinations more efficient. The desktop system is unobtrusive, has a compact design, and is small enough to fit on any office shelf.
When used in combination with the professional image acquisition software dicomPACS®DX-R, the compact and lightweight CR system provides a complete suite of image processing tools. The solution can easily be integrated into the workflow of a running clinic or research institution, for example to handle overflow and act as a backup in an existing DR or CR system.
At the heart of each Divario system is the dicomPACS®DX-R acquisition and diagnostic software with the integrated X-Ray positioning guide developed by OR Technology.
The software controls X-Ray generators and X-Ray units of various manufacturers, providing a smooth and structured workflow. A simple and user friendly GUI (graphical user interface), operated by touchscreen or mouse, completes the system.
The professional dicomPACS®DX-R image processing can be adapted to individual user needs and offers outstanding image quality in human and veterinary medicine. It has been specially developed to enable organ specific viewing quality optimisation, guaranteeing the highest quality of X-Ray images.