Duolys consultation chair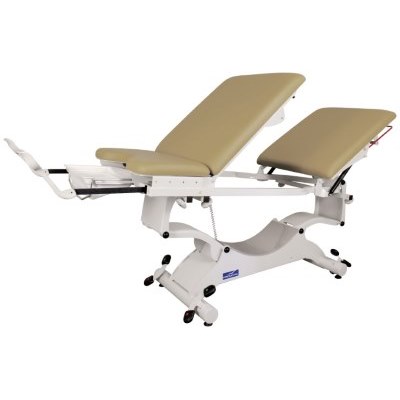 Duolys consultation chair
Receives each of your patients with dignity and simplicity.

Highlights and Advantages
•    Smooth electrically controlled movements
•    Transforms from exam table to a gynaecological consultation chair
•    Ergonomic design helps prevent Musculo-Skeletal Disorders
•    Integrated stirrups available with some models
Product Description
Duolys Examination and Gynaecological Consultation Chair
The Duolys Examination Chair will receive each of your patients with dignity and simplicity.
The Duolys has smooth electrically controlled movements, and the central section can be raised into a backrest to transform the exam table into a gynaecological consultation chair. Integrated stirrups are available with some models.
The 73cm wide upholstery ensures comfort for your patients and the ergonomic design, makes the Duolys easy to use by doctors and helps prevent Musculo-Skeletal Disorders.
THE STANDARD FEATURES OF THE DUOLYS EXAM CHAIR
Electrically variable height from 49 to 96cm
Gas-spring assisted external backrest
Electrically adjustable central backrest
Hand or foot control
Adjustable levellers under base or semi-centralised Block'n Roll® system of integrated retractable castors
73cm wide upholstery
Removable waterproof seat upholstery
Removable sliding, six litre, plastic pan
Mobile hoist compatibility clearance of 12cm
Patient weight capacity 200kg
Steel frame with light grey epoxy finish
COMFORT
Central backrest has smooth movements
Gas-spring assisted external backrest
Option to combine pedal and hand controls
Wide 73cm upholstery
Integrated stirrups with some models
HYGIENE
Easy movement: Block'n Roll system with some models
Removable waterproof seat upholstery
Covering with antibacterial protection, depending on upholstery colour
Two paper roll holders
Removable sliding plastic pan
All outer parts accessible for cleaning
SAFETY
Stable 'H' shaped foot
Patient weight capacity 200kg
Trendelenburg - reverse Trendelenburg with some models
M1 fire-retardant covering, depending on upholstery colour
ACCESSIBILITY
Variable height from 49 to 96cm
Compatible with mobile hoist