Acteon SoProCare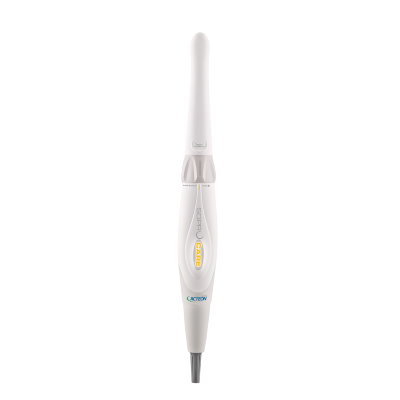 Acteon SoProCare
Three operating modes in one unique camera.

Highlights and Advantages
•     Reliable diagnosis of inflammation and dental plaque in PERIO mode
•    Intuitive chromatic mapping in CARIO mode
•    Clear visualisation and a large depth of field in daylight mode
•    Compatible with any software
Product Description
The SOPROCARE from Acteon not only detect caries - CARIO mode, it is also the only camera that uses auto-fluorescence and selective chromatic amplification to highlight gingival inflammation and to distinguish old and new dental plaque - PERIO mode. Thanks to its high efficiency optical system, it also offers, in DAYLIGHT mode, a unique kind of image quality. Three operating modes in one unique camera for an early detection of symptoms, a minimally invasive diagnosis and a clear and motivating communication with the patient.
The patented SOPROCARE concept was developed to assist the dental practitioner during prophylactic and periodontal treatment.
A reliable diagnosis of inflammation and dental plaque in PERIO mode
Thanks to specific wavelengths ranging from 440 to 680 nm, SOPROCARE features an exclusive PERIO mode for chromatic insight on dental plaque, tartar and gingival inflammation.
The gingival inflammation is indicated with subtle hues ranging from purple-pink to magenta-red depending on its severity. At the same time the new dental plaque appears white and grainy, and the old plaque, on the other hand, ranges from light yellow to orange depending on its mineralization.
An intuitive chromatic mapping in CARIO mode
Whether it is a distinct cavity or a first visual change in enamel, in CARIO mode, 450 nm, the caries can be easily identified in bright red and black, the healthy dental tissues on the other hand appear distinctively in black and white.
A clear visualisation and a large depth of field in daylight mode
In DAYLIGHT mode SOPROCARE offers in-depth magnified views. Indeed, the Macrovision provides a magnification up to 110 times, revealing details otherwise not visible to the naked eye or with radiography. This enables close monitoring of micro fractures and their development. With the preset focus ring and enhanced focal depth each image becomes instantly sharp and precise under every angle of the camera and for each pre-set focal depth. With one click, easily go from Macrovision to one tooth, intra-oral and extra-oral vision.
Whether you are using Windows or Mac, a video device or a USB2 output the new intraoral camera, SOPROCARE is compatible with any software and has the right combination for every possible use and connection.